Meet Tabitha – an asset to the PJC team, recently married and now a year cancer free.
Cancer affects us all and far too often – 1 in 2 of us will get cancer in our lifetime and unfortunately at the age of just 33, Tabitha was told the harrowing news we all dread to hear and was diagnosed with Breast Cancer.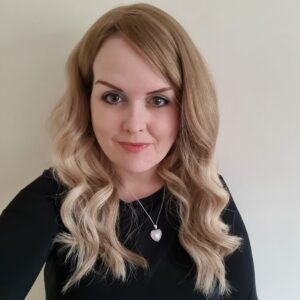 It all started In December 2019 when she visited the doctors in between the festive and New Year period as her left breast had swelling and redness on the top. Tabitha was diagnosed with Mastitis – She set off with some antibiotics and took the doctor's word for it… as you do.
By the end of March 2020 and in the mix of a new and scary pandemic, Tabitha noticed the redness had calmed but the swelling was still there with but with more of a defined, grape-sized lump. Trusting her gut instincts, she knew something wasn't right and had to push very hard to be seen in person at her surgery because of COVID.
The doctors wanted Tabitha to try more antibiotics, but she just knew she needed to be seen. In April 2020, Tabitha was told 'yes, it is concerning, we have to refer you to the Urgent Breast Specialist, but we don't quite know when you will be seen due to the pandemic'. A very scary situation to be in and it just didn't sit right with her. Not wanting to sit around and wait, Tabitha was lucky enough to be seen privately at Spire but had to face the appointments alone due to the escalating situation with the pandemic.
At the end of April 2020 Tabitha was officially diagnosed with ER+ PR- HER2+ Breast Cancer.
According to the National Cancer Institute (NCI), doctors most often diagnose breast cancer in females aged 55–64 years. Based on data from 2012–2016, the median age of diagnosis in females with breast cancer was 62 years old.
Being just 33 years old, this must have been a devastating and surprising blow.
Determined as ever, Tabitha wanted to start her treatment plan ASAP to get rid of the Cancer and stayed with Spire for her surgery in May 2020.
"I wasn't allowed anyone to my appointments from this time on. That's been one of the hardest things to contend with. After surgery, I found out I was fortunate to have had clear margins and it wasn't in my lymph nodes, but due to the type of aggressive cancer it was and only being 33, they wanted me to have chemotherapy as a precaution, to zap any rogue cells that may have been floating around in my system" says Tabitha.
From June until September 2020, Tabitha went through Chemotherapy and had to face this alone with no one allowed to be with her on the lifesaving appointments. "It was the hardest thing I've ever done physically and mentally, and I still deal with the after-effects of it now", Tabitha explained.
She found the most daunting thing was the realisation she wasn't invincible and being so young, she never expected this to happen so early on in her life.  Had she not caught it when she did, the outcome could have been very different.  "Being faced with that fact really changes your perception on everything going forward. You have 1 body and 1 life, it's amazing yet its so so fragile… look after it"
Tabitha wants to raise awareness and asks everyone to check their breasts regularly. If you are concerned with anything you find, get it checked out immediately. Never feel you are too young or wasting the doctor's time.
Through this experience, Tabitha found hundreds of women her age and younger who have been diagnosed with breast cancer. There is a great support group on Facebook called the Younger Breast Cancer Network (YBCN) on Facebook. The support Tabitha found there was invaluable for her.
Dealing with this on top of the effects of Covid also proved to be another challenge. Facing appointments alone, struggling to get seen, all impacted her journey. She felt lucky to have her then-husband-to-be by her side through it all and the love and support she received from him was more than she could have ever imagined.
As you can imagine. Tabitha's family found it very hard. There wasn't a great deal of help with restrictions and lockdowns and people weren't allowed to visit or drop by to check on her as her immune system was so low through treatment it was so important not to pick up a cold let alone COVID.
We're so pleased that Tabitha is now an entire year Cancer free and got married to Jon on August 10th this year.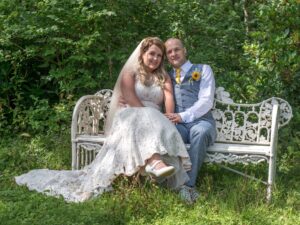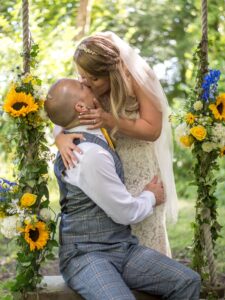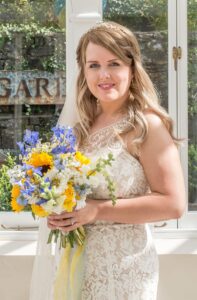 "I always knew he was special but the way he looked after me when I was at my very worst just proved it even more. It was a perfect day!"
Tabitha would like to give the below advice to anyone who may be going through this tough journey now – "I would say to anyone going through this right now to just keep on keeping on. The long road ahead can be so overwhelming, but take it in baby steps, get from A to B, B to C. It's hard but you don't know how strong you are until you have no choice".
Throughout September our Managing Director, Catherine Caines, ran 61.7 miles and raised money for Cancer Research UK. Every night she would set off to tot up the miles and set a fundraising target of just £150 – Cath raised a staggering £575 and was over the moon to raise so much for a good cause.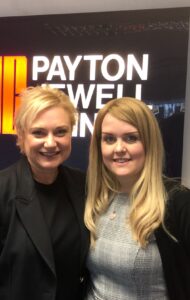 Together we will beat Cancer.
By PJC Homes on October 29th, 2021